How to benefit your ROI using e-signatures
By Trustweaver and OpenText
Nearly all countries award "exceptional evidence" status to high-quality electronic signatures. In most countries, when an invoice is sealed and meets strict e-signature legal requirements, anyone challenging the integrity and authenticity of your invoices has to prove they are not real. This unique feature provides an unprecedented level of legal certainty: you don't have to wait until the next tax audit to know if your e-invoicing investment is at risk because of legal discrepancies. Read the white paper »

Small Companies Grow Faster With EDI
This short video shows a series of real world customer success stories demonstrating the value small companies have achieved by implementing EDI solutions from OpenText GXS. View now »
Roadmap for Improving Your Integration Strategy: The 7 Things You Must Know (and Do!)
In this exclusive 45-minute webinar, Gartner Research VP, Benoit Lheureux discusses the potential impact that these innovative and disruptive technologies will have on your organisation's B2B integration strategy. He provides a strategic roadmap that outlines the seven things you need to know (and do) to ready your business and technology strategies in order to operate successfully in this new and dynamic landscape. Read more »
EDI Hard Facts to Empower You in 2014
View this 30-minute webinar to get the hard facts from a new independent B2B study from Supply Chain Insights, focused on global best practices with EDI and XML in procurement, logistics, and finance. Regardless of your current level of EDI/XML adoption, this webinar will provide you with hard facts and actionable insights to help you gain a competitive edge when planning and executing your 2014 EDI programmes. Read more »
What is B2B Integration?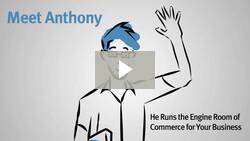 Take advantage of GXS's many subject-matter experts and customers as they share their experiences, industry and technology perspectives, and emerging trends. Discover best practices and how to leverage B2B integration today, and into the future.
Learn the Basics of EDI
Whether you're new to EDI, need to get EDI-compliant or simply want to educate your colleagues, EDI Basics provides you with an easy-to-understand explanation of the fundamental concepts of EDI. This eBook is written with the non-technical reader in mind, keeping the content simple and straight forward.
Along with outlining the basics of EDI, this eBook explores:
Which business processes typically benefit from EDI
The benefits of moving away from manual processes
How three best-in-class companies implemented their EDI programmes
EDI Basics can be used to refresh your current knowledge of EDI, or as a beginner's tool to answer your questions, such as:
What is EDI?
How can I get started?
What benefits can it offer my business?
Download your EDI Basics eBook to realise the full business value of an EDI programme. Use your new-found knowledge to get started on your own EDI initiative today.